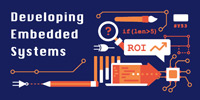 Participate in a ground-breaking, international study into issues in the design and development of embedded systems! Get a chance to win one of 10 randomly selected Amazon gift cards!
Kansas State University is conducting a survey to study experience and the capability to estimate time and costs for developing embedded systems.
Most people complete the survey in 12 to 20 minutes.
The results are anonymous.
---